Foundry Information


Get a FREE Quote Now!


What do our clients say?
"From start to finish, we were very impressed with Eagle Bronze's commitment to quality, craftsmanship and the ability to finish our project of six monumental bronze panthers on a timely basis."



– Jon Richardson,
President Carolinas
Stadium Corp.

Eagle Bronze Foundry Services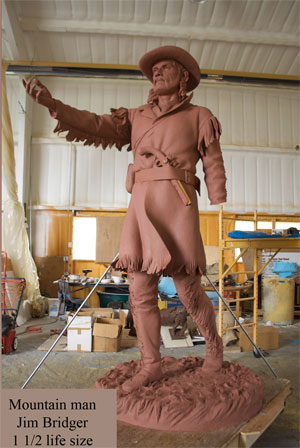 Combining new technology with a historic and ancient process, Eagle Bronze Foundry has redefined the fine art foundry as we know it.  With a very dedicated and knowledgeable staff combined with a state of the art mind set, Eagle Bronze Foundry is there for you!
Take a look at some of the services that we provide:
Turn – Key Solutions:


Turing an idea or dream into a physical piece of artwork has never been easier.  Giving us a complete maquette version of the proposed project or just give us the concept, either way, we can manage the project from the beginning.  As an artist creating a finished maquette, we can alleviate the stress and worry that can creep in when figuring how to manage a project.  Not only can we mange the project from the beginning, we can recreate what you have produced with quality and integrity.

We have a vast network of artists from in house to all over the world; therefore, we can even help choose artists that are better fit for the project at hand.  Thereby, giving you more options to choose from with much less hassle.



Digital Enlargement and Reduction:


Using the latest in technology, we can provide a reproduction of your artwork in a reduced size or an enlarged size with amazing detail.  We can produce these replications from just the foam core with as little or as much detail as specified to a 90% finished clay rendering of the original.

Mold Making:


From very small to extremely large, we can produce molds of your finished clay, stone, wood, metal, or almost any medium. Along with silicon rubber or urethane rubbers, we only use the best quality materials as we know how important your original sculpture is to you, and hence we don't use a material that will not last more than a year. Using new technologies, we have the ability to mold the largest of monuments in fraction of the time it would take using conventional methods.  Not only do we provide this service in house, we can come to your studio and mold your monument without it ever leaving!

Engineering Modeling:


With on-staff engineers, we are able to provide engineering modeling that is site specific to any installation. Therefore, not only do we engineer, design and produce interior steel armature for complex designs and sculptures, but we also make sure that they are relevant to the area they are installed, from coastal storms to seismic zones and everything in between.

Full Service Foundry:


We provide full service castings in high quality everdure silicon bronze and 316L stainless steel. Full service castings are of uncompromised quality produced using one of the finest wax, shell, metal pour, metal finishing, and patina crews that you will not find elsewhere.

Basing and Shipping:


Having our own basing and shipping department gives you the flexibility to have us not only create a base and nameplate for you and install it onto the piece, we can box or crate and ship it any where in the world.  Do not forget to ask about how we can get your piece shipped safely to our facility, large or small!

Delivery and Installation:


A finished monument is only finished when it is admired and adored from public eye.  This only happens once the piece is delivered and installed.  We have delivered and installed some of the largest monuments in the United States and all over the world.

Fabrication and Restoration:


We provide sculpture restoration service of an original piece that may have been damaged or which needed a cleaning or touch up or help with some fabrication work.

Resin Division:


We have been "doing" resins for years now but the problem has been that, someone else has been doing it for us, for example from places as far as China. Over the years, not only have we found the need to produce resins in house, but also the need to produce ones that would fall under the same high quality standards that their bronze or stainless steel counterparts have.  It is a problem when the resin "looks like a resin".  Our resins go through processes that make it very difficult to differentiate what is resin and what is bronze.

Memorial Bronze Plaques